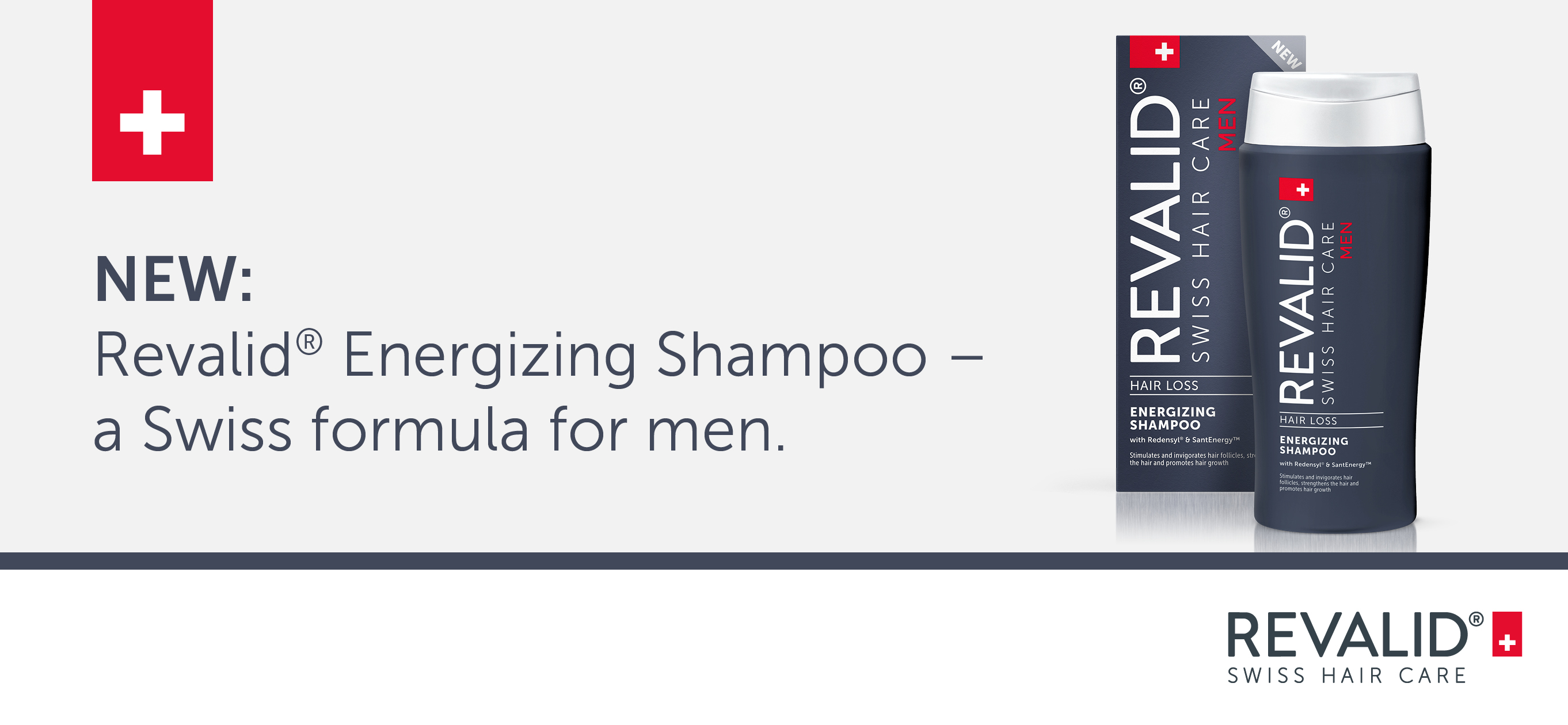 More energy for men's hair follicles
Bye bye hair loss, hello strong and healthy hair. New energy for men's hair follicles: a healthy scalp and roots are the basis for salubrious hair. Hair is constantly exposed to environmental and endogenous stress. It is therefore important to protect and support it at the root. How can we do it? By providing new energy to hair follicles – the most vulnerable part of the hair, and thus supporting the growth of full hair.
Two experts to fight hair loss
The new Energizing Shampoo for men by Revalid is an innovative combination of the two powerful active ingredients SantEnergy and Redensyl. The active ingredients stimulate and invigorate the hair follicles, protecting them from oxidative damage, strengthen the hair, and promote hair growth. The enriched formula with Swiss Artemisia flower extract gently cleans and moisturizes both dry scalp and hair and strengthens hair structure. Naturally and effective. This shampoo especially for men will be available in pharmacies in Autumn 2022.
Santenergy: Unique dual mode of action
SantEnergy is an extract obtained from the leaves of the Yerba Santa plant which are well known for their health benefits and antioxidant power. SantEnergy has two favorable properties: it is both a strong antioxidant and has an energizing and stimulatory effect comparable to that of pure caffeine. It optimally protects the hair follicles from internal and external damages and delays their premature aging. At the same time, it increases hair growth as well as hair density.

Redensyl: The hair growth galvaniser
Redensyl is an active ingredient composed of two patented molecules derived from larch tree and green tea leaves. It reinvigorates hair follicles and at the same time, it boosts the hair's metabolism and activates the division of hair follicle stem cells – it has thus been scientifically proven to stimulate hair growth while reducing hair loss.
ABOUT REVALID
Revalid was developed in 1992 in Switzerland specifically for holistic hair care and to treat hair loss. Developed by experts to make your hair healthier and stronger, Revalid high-quality products are specifically formulated to meet everyone's needs. All cosmetic products are dermatologically tested and produced in Switzerland. For more information see www.revalid.com
ABOUT EWOPHARMA
Ewopharma AG, headquartered in Schaffhausen, Switzerland, is a pharmaceutical marketing company focused on Central Eastern Europe and Switzerland. With more than 60 years' presence in the region, Ewopharma has extensive knowledge of these markets and enjoys a privileged position in the area. The company covers all aspects of market access and commercialisation of ethical pharmaceutical and consumer health products. www.ewopharma.com